Happy Monday all! It is time for my weekend update!
For starters, Californians are going a bit crazy (more crazy than normal). First and foremost we have the nutty ex-police/military man,

Christopher Dorner, on the loose. So every police man and every other service person in the state are on edge, shooting every crew-cab truck that crosses their path.
So to add more fuel, we had a
SNOW STORM
on Friday - yes a snow storm. A storm so bad it tripled my commute time, had cars up on the curbs and took over the news with "special reports"! Are you ready to see how intense this storm was?!
Two minutes later, by the time I got from this spot where the picture was taken...to the driveway of my house (the one on the corner in the picture) the snow was gone! Crisis averted! Whew
On Saturday Rams and I met with a bunch of pool builders, patio cover makers and landscapers to make some more plans for our backyard makeover.
This is my rough drawing of what we are going to do with our backyard. As of now, we have dirt, weeds and cement.
Sunday was our cooking day! Every couples months or so Rams and I make a feast of Sri Lankan food! It makes our house smell like curry, but it is SO tasty!
We made a gigantic pot of soy curry, dahl curry, a parsley and coconut salad and a mystery vegetable dish.
Mystery vegetable dish
And finally Rams and I ate the wonderful food and watched the GRAMMYs with the boys.
the boys watching the GRAMMYs with us
I will get into my thoughts on the show tomorrow, but I thoroughly enjoyed watching my best friend (Carrie Underwood) perform - she was flawless per usual!
I joined a link party today with
Sami & LeAnn - check their weekend updates as well.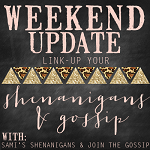 Now I've got to get on my man hunt for Chris Dorner so I can claim the

$1million

reward!