Thank the weekend Lords it is finally Friday again!
I don't know about all of you but today couldn't come fast enough!
I have teamed up again with my friend Lindsey to bring you the second week of our new link up and blog hop! Make sure to go check her Friday's Fab 5 as well. Join us and tell us what you are in love with this week!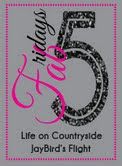 Here is how it works:
-Post about your Fab 5 things
-Join the blog hop at the bottom of today's post-
Here are my Friday's Fab 5!
1.) MAC Tan eye pigment: This stuff is amazing - get it here! Lindsey (Life on Countryside) gave me a sample of this over two years ago and I have been in love with it since! I've used it almost every day since then and really think I look unlike myself if I don't wear it. It really makes my blue eyes stand out...or at least I think it does.
photo source www.temptalia.com
2.) Norwex Dusting Mit: I HATE cleaning. Rams and I have a pretty big house and cleaning is a never ending process for me. Seriously - it seems like I dust the coffee table and 10 minutes later it needs it again. My mom sent me this Norwex Dusting Mit and it has changed my life.
T
he only downside it that you have to find someone who sells the products...if you must have it let me know and I'll hook you up with someone!
You put it on your little hand, run it over any surface and it picks up dust, pet hair and shines everything up! It has no chemicals or junk on it so it is good for for all of you "green" lovers. It has cut my cleaning time in half and I don't know what I ever did without it!
photo source www.healthyhomecleaning.com


3.) My Talk 107.1: This is an old lady radio station out of Minneapolis - by old lady I mean I feel like only old ladies listen to this station. I listen to it all day at work here in California. All these ladies and extremely flamboyant men talk about is anything pop culture...celebrities, TV, musicians and so much more. They all have horrible Minnesota accents and sound a little crazy but that is what makes they so entertaining! You should check it out and give it a listen!
4.) Alexa from Southern Living Our Way: I contacted her about a month ago for a non-blog related item (this was before I even started my blog). Since I began this blogging adventure of mine she has been such a role-model for me! She has been generous and great enough to offer her time and advice! She is fantastic...and you should read her blog...like now! Thanks Alexa!
5.) PB2: It is basically peanut flour and you mix with water to create your own peanut butter - with half the fat and calories. It has the same consistency of the normal stuff, no preservatives or artificial sweetener I use this in place of PB in recipes and even on my toast! It is pretty fan-frickin'-tastic.
photo source www.netrition.com
Thanks for checking out my "Friday's Fab 5"!