Happy Friday all!
I have teamed up again with my friend
Lindsey
to bring you the third week of our new link up and blog hop! Make sure to go check her Friday's Fab 5 as well. Join us and tell us what you are in love with this week!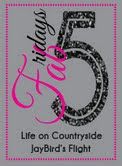 Here is how it works:
-Post about your Fab 5 things
-Join the blog hop at the bottom of today's post-
Here are my Friday's Fab 5!
1.) "The Lying Games" on ABC Family: First and foremost I understand that show is geared towards people that are probably 10 years younger than me, but I can't help but love it! It has girls that are pretty and dress way better than I could ever imagine dressing. It's got some FINE looking men boys that frequently take off their shirts. And it has so many twists and turns and lies and unhealthy relationships and sex and drama! Oh my - it is just sooooooo good! If you have yet to see this show...set your DVR!
2.) Rodan and Fields Eye Cloths: Sometimes I get lazy at night and really do not want to wash my face the way I should! So I pull out these nice little cloths and take of my makeup around my eyes and my whole face. Not only do they clean my face up, but they also have anti-age ingredients so it will only help me look as young as an 18 year old!
3.) Earth Balance Butter: My sister Julie, who is a vegan, introduced me to this butter a few years ago and I haven't used anything since! It doesn't taste like a normal vegan-wanna-be product would taste...it tastes so good! It is great for toast, roasting things, basically anything you would use another type of tub margarine or butter for. I love it - and there are NO dairy products!
photo source www.sacmidtown.com
4.) My new dress: While my sister was here we obviously went on a shopping spree...THANKS MOM!! We basically spent all our money at Ann Taylor Loft and I found a dress that looked terrible on the hanger, but amazing on the person! I am always trying to find dresses that I can wear casually or dress up when Rams and I have to go impress some important people. Disclaimer - couldn't find a better picture than this...but if you go to the website it looks much better!
photo source www.loft.com
5.) A&W Cream Soda: All I can say is this stuff helped me survive my "colon prep" junk yesterday! Thank you to the Cream Soda for not making me gag every time I had to drink
8 ounces of that god awful solution! I don't remember the last time I had an actual non-diet cream soda and boy did I enjoy drinking it! D-E-L-I-C-I-O-U-S.
photo source americansoda.co.uk
There you have it folks, my fabulous things of this week! What are yours?